TLC SchoolConnect is IBM's sophisticated yet easy-to-use network management system for K-12 schools. TLC SchoolConnect allows you to manage computing resources such as student accounts, software, and printers through an easy-to-use browser interface. TLC SchoolConnect is designed for the unique requirements of the school environment, where simplicity, security, flexibility, and minimal support requirements are crucial.

Integrates LANSchool v6.0 for facilitating teacher demonstrations. Teachers can broadcast their screen to all the student screens in the classroom or lab.

Enables easy network management for teachers and system administrators.
Provides ease of use for students and teachers by focusing on the task, not on the technology.


TLC SchoolConnect has three separate views, each allowing access to powerful tools through an easy-to-use browser interface.
Manage the entire school network from the TLC SchoolConnect Administrator View. As well as using system functions that are accessible within the server utilities. System Administrators are able to:

Add and remove users

Suspend user accounts

Change user profiles

Make software available and accessible to all users

Manage the school's printing environment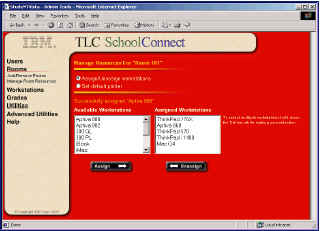 Manage classroom activities and curriculum courseware from the TLC SchoolConnect Teacher View. Teachers are able to:

Create classes and then assign students and courseware to the class.

Distribute and collect assignments and homework electronically.

Can create a threaded discussion forum and groupwork folder for every class.

Broadcast the teacher screen.

Change a student's password.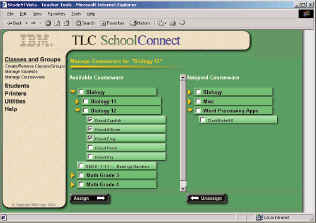 Complete assignments and collaborate with others from the TLC SchoolConnect Student View. Students are able to:

Sign on to TLC SchoolConnect with restricted access to system files.

Collaborate with their peers and exchange files with their instructor within an easy-to-use and familiar windows interface.

Launch programs provided by their teachers.

Use Applications that are provided to all student users from the TLC SchoolConnect desktop.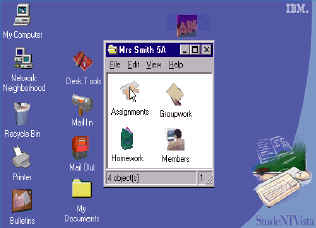 Webmaster: Send mail to plargent@brightbluesoftware.com
with questions
or comments about this web site.
Taskmaster: Send mail to dlargent@brightbluesoftware.com with questions
or comments about Bright Blue Software solutions.
Copyright © 2001-2017
Last modified: August 11, 2017
Bright Blue Software © 2001-2010